SHINE..it's like glitter for your soul!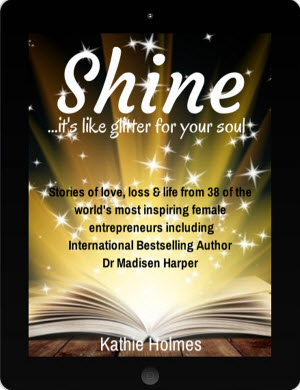 Living a life that inspires others can often be daunting but it can also be one of the most rewarding things to do.
Imagine being responsible for changing someone else's life for the better.  For giving someone else hope that there is light at the end of the very dark tunnel.
Sometimes all it takes is to read about someone else's journey through life, to put your life into perspective and to give you a new outlook and rejuvenate a lagging spirit.  When you see that others have triumphed through tragedy and heartache you realise that you can overcome even the greatest obstacles.
This is my purpose here in this lifetime, to be the best possible 'being' I can be and to shine the light so brightly that others cannot help but see themselves too.
I want to let you know about an inspiring group of 38 female entrepreneurs, including International Best Selling Author Dr Madisen Harper, who  have recently come together to produce an eBook that gives you a look into their lives.
I have had the opportunity to be one of these featured authors too.
Together, we share stories of love, loss and life and give hope for a brighter future.
This group of amazing women are all contributing authors in the newest release book,
"SHINE…it's like glitter for your soul".
The book was compiled by Kathie Holmes of Creative Ability Network and is the first book in the SHINE BRIGHT series of books.
Personally I ant wait for my paperback copy to arrive! I have already read the digital version and its inspiring to say the least.
I would love for you to get a copy of this book too. It's available through Amazon as a paperback (this is the version I am getting because I like "real" books) or as Kindle version.
The paperback is $8.96 and Kindle is $0.96
Here is something awesome though…for a 5 day period over the Valentines Day weekend you can download the Kindle Version of the book absolutely FREE!
Time to give YOURSELF a little lovin' dont ya think!
It's FREE on the Kindle  from  Midnight pacific time on the 12th Feb until Midnight pacific time on the 16th Feb.
In Australia the book will be available here from around Midnight on the 13th Feb to Midnight on the 17th Feb.
(these times may vary slightly depending on your time zone)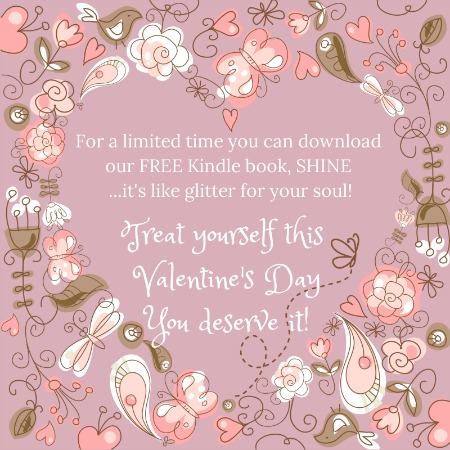 Click here to download your Kindle copy of SHINE.
Don't have a kindle?  You can download a free Kindle app for your phone, ipad, tablet or computer!
ENJOY and we would love to know your feedback and how the book helped you.
Let me know over at the FACEBOOK COMMUNITY or drop me an email at trish@trishrock.com
Keep shining!
Trish
trish@trishrock.com
www.trishrock.com