Acts Of Love
As I lay there, in the bath, on this Sunday morning, at 10am, filled with the beautiful fragrance of the Romance oils I had lavishly poured into the steaming hot water, along with the Epsom Salts, I thought –Love and Gratitude.
How lucky am I to be enjoying this most delicious time here, this morning, feeling so beautiful with this soft water wrapping me in its warmth. How lucky am I that I can choose to do this. How lucky am I that I can experience Joy this way.
There could have been many other things going on in my mind and it is not that far in the past that my thoughts would have been completely different. Worries and concerns that may have been keeping me stuck or frustrated such as:
How will I pay for this thing I need/want?
How will I manage to get it all done?
When will my lover come to me?
What do people think of me?
Am I really that bad at everything?
Why do I mess everything up?
Why do I let others down?
I don't deserve to be sitting here in this beautiful water at 10am on a Sunday!
And so on
These thoughts can consume our every bit of energy to the point where we actually believe them. Yes, that's right….we don't have to believe them at all!
I have come to realize and understand that this life we are here to experience is all about Joy.
Its about experiencing Joy, Love and Gratitude…in whatever way feels good to us.
So having a long relaxing bath that I knew would help my body, mind and spirit, brought me Joy, Love and Gratitude this morning.
There was a time though that I would not have done it.
A time when I didn't feel I deserved it.
A time when there was ALWAYS something MORE IMPORTANT to do.
A time when the worry I held within me would paralyze me into non action of any kind.
To be clear and transparent with you, these thoughts still arise. I am not immune to them. That is the way we experience the contrast, the opposites, the black and the white of life.
The difference now is that they do not consume me.
The difference now is that I focus on the opposite.
The difference now is that with practice, I have learnt to know the place and feeling of my heartspace, and easily step out of the ego fear space.
And everyone can do this.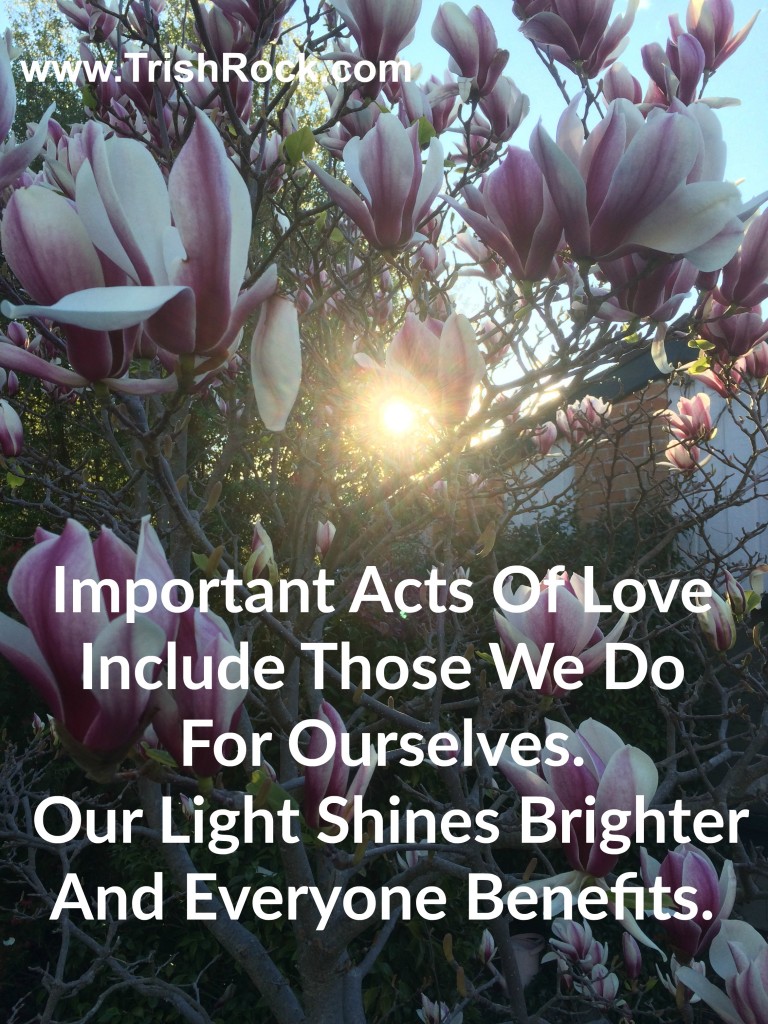 All it takes is the decision.
It takes the resolve to keep on going, never feel like a failure if you slip and fall, and to set yourself up to succeed in this by having words, images, thoughts and people around you who support the 'new empowered you' that is emerging.
Change the thoughts from the ego fear space to reflect how your heart space would be feeling. Thoughts such as:
In this moment I am feeling so loved and supported
I may not have a lot of money but I know that I am always provided for
I am safe here in this peace I feel within myself
There are so many things to Love about me
I deserve to have and BE all I choose in life
My lover is on the way and until we meet I will become a grander version of myself so as to match his vibration
I feel so much gratitude to be here, experiencing this, right now, and I know the Universe has my back.
Even though this feels not so good right now, I know the opposite feeling is also within me and I choose now to feel Love.
It will take practice, faith and a determined mind when you first get started but you will see and feel the messages and the results almost immediately. The Universe will ALWAYS give you signs of your progress. Keep your eyes and heart open.
It could be the beautiful flower you spot in a field of flattened or dry grass. It could be the song that comes on the radio when you hop in your car. It could be this message you are reading right now!
Be open, trusting and know that a higher power is within you, around you and supporting you, always and in all ways.
Firstly though, treat yourself like you would treat someone whom you loved with all of your heart, for it is only when we can feel this love for ourselves, that we will see and feel it everywhere. It all begins within.
And my bath? Well, it was the best ever and I fell asleep for a while in the space of total gratitude, Love and Peace, for myself and all others.
What will YOU do for yourself today? How will YOU show Love for yourself and all others? How will YOU experience Love, Gratitude and Peace today?
Share your ways with us so we can all experience the beauty of Love today, in a far deeper way.
Love.